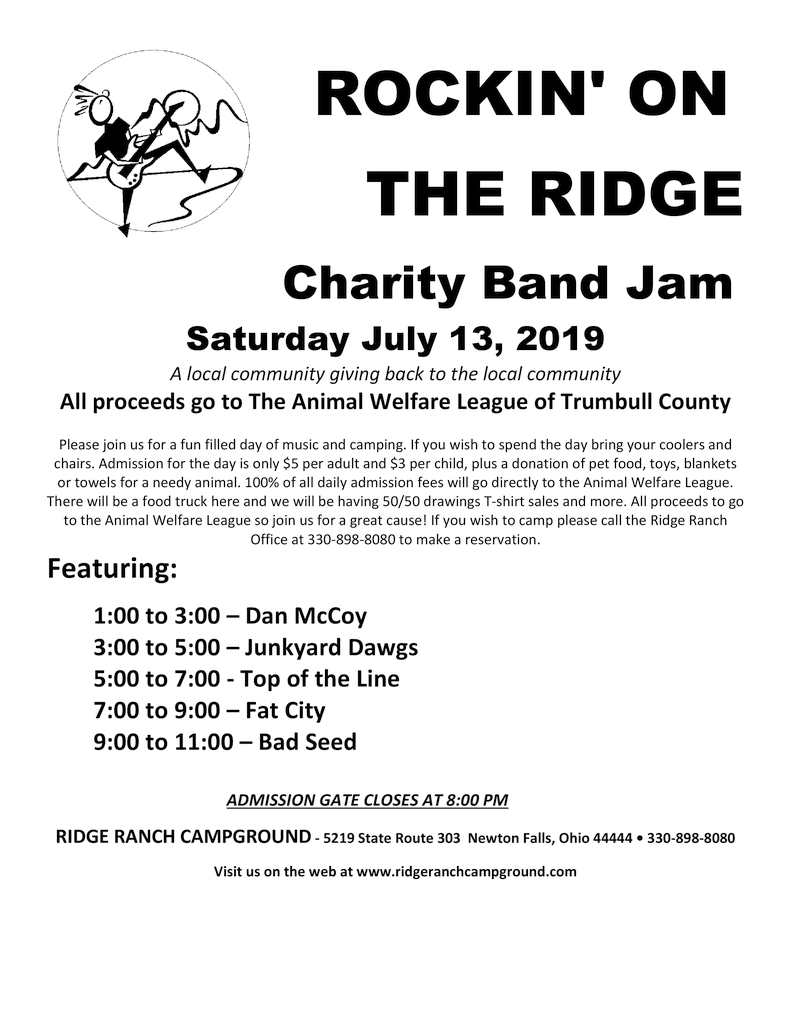 Charity Band Jam
‍
Saturday, July 13, 2019
A local community giving back to the local community
All proceeds go to The Animal Welfare League of Trumbull County
Please join us for a fun filled day of music and camping. If you wish to spend the day bring your coolers and chairs. Admission for the day is only $5 per adult and $3 per child, plus a donation of pet food, toys, blankets or towels for a needy animal. 100% of all the daily admission fees will go directly to the Animal Welfare League. There will be a food truck here and we will be having 50/50 drawings, T-shirt sales and more. All proceeds to go to the Animal Welfare League so join us for a great cause! If you wish to camp please call the Ridge Ranch Office at 330-898-8080 to make a reservation.
Featuring:
1:00 to 3:00 – Dan McCoy
3:00 to 5:00 – Junkyard Dawgs
5:00 to 7:00 – Top of the Line
7:00 to 9:00 – Fat City
9:00 to 11:00 – Bad Seed
Admission Gate Closes at 8:00 PM
Ridge Ranch Campground – 5219 State Route 303
Newton Falls, Ohio 44444
330-898-8080
Visit us on the web at www.ridgeranchcampground.com
Join the AWL for classic cars, airplanes, music, beer and food!
Proceeds will go to the AWL and the Northeast Ohio Adoption Services.