The Animal Welfare League of Trumbull County is a non-profit organization dedicated to protecting the unwanted, neglected, abandoned and abused animals to live without pain and suffering. The Animal Welfare League exists solely due to the generosity of our donors and our many volunteers who organize and help at our fundraisers! Without your generous donations and help, the suffering of animals would go unanswered, and the voiceless would remain unheard.
Donations to AWL go to help us keep food in the bowls of all the animal in our ca
re. They go to ensuring every adopted animal leaves vaccinated, spayed/neutered, and microchipped. Donations help to provide medical care to those animal who have been injured or neglected. Your donation to AWL, no matter how large or small, makes a positive impact on the lives of animals.
To make a gift to AWL you can mail your check, made out to AWL, to:
AWL
P.O. Box 66
Vienna, OH 44473
Tax-deductible contributions may take the form of cash, checks, donations of securities, 401K distributions; tangible personal property and real estate; and bequests and other types of planned gifts. Please consider a tax deductible contribution to the AWL today.
Honorary & Tribute Gift
Donations to AWL are a great way to honor a loved one or pet. Whether it is to celebrate a birthday or other special occasion or as a tribute during a time of loss, AWL is always deeply honored to be named by someone as their charity to choice.
When tribute gifts are given the families also receives that feeling that that person mattered and they know that their legacy will live on in the pets helped by yours and others gifts.
Honorary and tribute gifts are so important to providing the operations and services of AWL.
May the wonderful celebrations and memories of those special occasions and people live on
 in our hearts and in the lives of the many pets that they have helped.
For more information,
please contact Heidi Beach, CFO,
at [email protected]
or call (330) 539-5300.
Honor a special person or pet in your life with a paw plaque at AWL!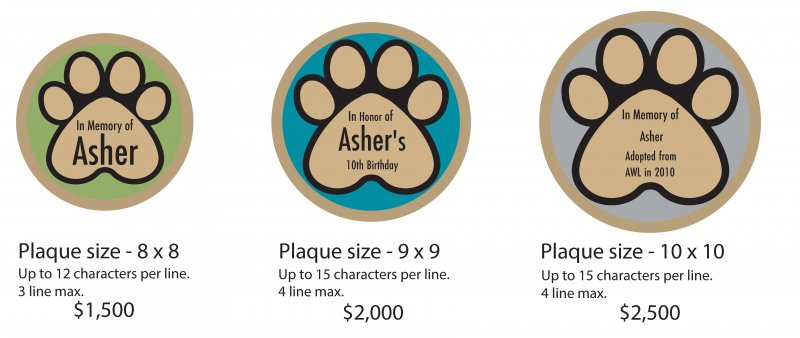 All plaques will be installed in the main area of AWL's animal shelter. For more details on paw plaques see the form at the link below.
Plaques can be ordered using this form.
Completed forms can be  mailed to PO Box 66, Vienna, OH 44473,
emailed to [email protected], 
or drop off at the shelter during public hours.
For questions call AWL at 330-539-5300.