At The Menagerie, you'll find a wide variety of new and used items, including clothing and accessories, home décor, kitchenware and household items, books, puzzles, and games, linens and bedding, toys, books, CDs, and DVDs, vintage and collectable items, and one-of-a-kind, quirky treasures. 
All of our merchandise is donated by our generous supporters. Store proceeds support the operation and mission of the Animal Welfare League and directly benefit the shelter animals.
We put out new merchandise every day, so come in and check us out!
‍
Let us find the treasure in your unwanted items!
We greatly appreciate donations in clean, usable, working order, and in good-to-excellent condition. Donations can be brought to The Menagerie Tuesday through Friday between 10 AM and 5 PM, and Saturday between 10 AM and 3 PM. Items are accepted at the intake door at the rear of the store (on the Dairy Queen side of the building). If you have more than three large bags or three medium-sized boxes, we ask that you call 330-856-5174 to schedule a donation, especially during peak garage sale season (May – September). Large unscheduled donations may be turned away due to lack of space, and priority will be given to scheduled donations; however, we will try our best to accommodate everyone.
Donation Guidelines
For a detailed list of items that we do and do not accept, please view our Donation Guidelines.
Due to zoning and fire regulations, if you come when we are not open,
PLEASE DO NOT LEAVE DONATIONS ON THE PREMISES WHEN THE STORE IS NOT IN OPERATION!!
Items dropped off outside when the store is not open are often stolen or items are ruined from the weather and we cannot use them. If you are bringing a donation during open store hours, please ring the bell at the rear door and secure with donation with a team member. We will gladly give you a tax receipt if you would like one.
Thank you for your cooperation!
---
Become a Menagerie Volunteer!
‍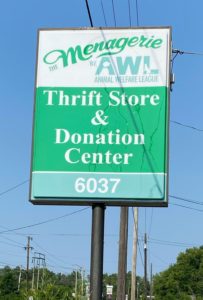 Phone
(330) 856-5174
Address:
6037 E. Market St, Warren, Ohio 44484
Store Hours
Monday 12:00 PM – 5:00 PM
Tuesday – Friday 10:00 AM – 6:00 PM
Saturday 10:00 AM – 4:00 PM
Donation Hours
Monday – Friday 10:00 AM – 4:00 PM
Saturday 10:00 AM – 3:00 PM