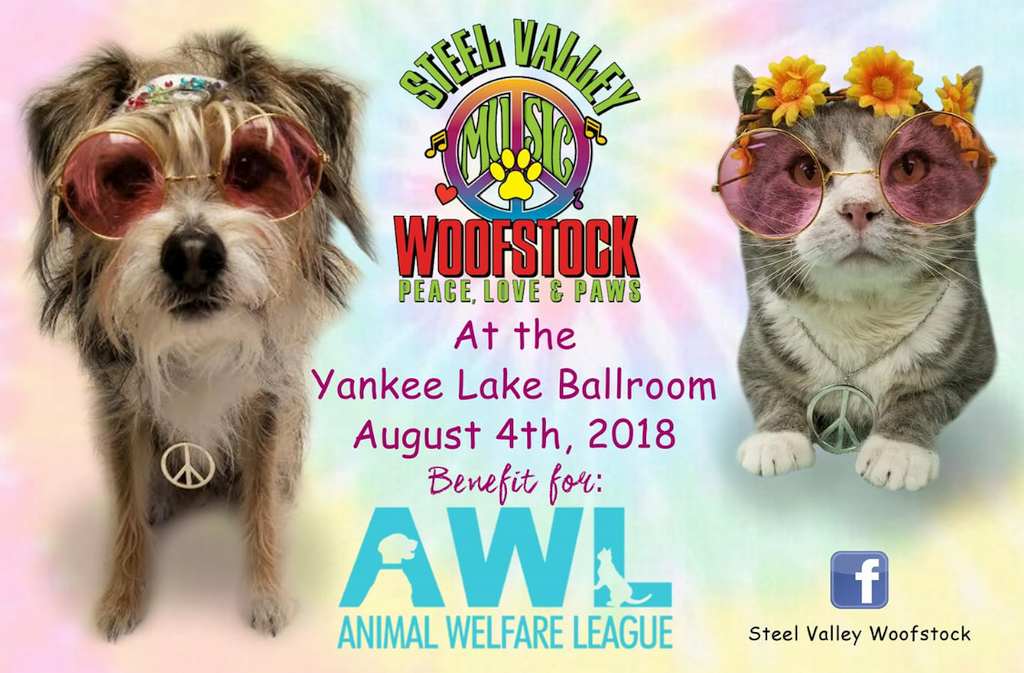 STEEL VALLEY WOOFSTOCK 2018!
A BENEFIT CONCERT FOR ANIMAL WELFARE LEAGUE
On Saturday, August 4, 2018, organizers will present a fun-filled evening of peace, love and rockin' music via "Steel Valley Woofstock," a concert event to support and celebrate the work of Animal Welfare League. Created and organized by local veterinarian Dr. Suzanne Wilcox, the event will take place at the Yankee Lake Ballroom in Hartford, Ohio. Doors will open at 5:00 P.M. The concert will feature an all-star line-up of local performers including, Generation Rock, The Huckin Fillbillys and Second Avenue Project. Special guest Dennis Drummond will also perform. Drummond, now residing in Nashville, is a native of Warren, Ohio and is well known for his performances on the hit TV show The Voice.
The cost of the event is $35.00 and includes concert admission for all band performances, soft drinks and finger foods plus a progressive prize drawing. A cash bar will also be available. HOT MUSIC AND COOL STUFF!
In addition to entertainment, the event will have a silent auction where attendees can bid on a variety of rock-n-roll memorabilia, including signed guitars, records, lyric sheets, and more.
There also will be a VIP experience silent auction, such as NASCAR driving experience or concert VIP experiences. A Chinese auction, all valued at over $100, will also be ongoing throughout the evening.
According to Wilcox, "Funds raised from this event will allow AWL to continue to provide quality daily care, medical care, spay/neuter surgery and everything else needed to make animals comfortable and safe while waiting for their "fur"ever homes." For almost fifty years, AWL has worked to protect the unwanted, neglected, abandoned, sick, injured and abused animals of Trumbull County. AWL receives no public funding and depends solely on the generosity of supporters, contributors and volunteers.
Tickets for the event can be purchased at the AWL shelter at
812 Youngstown-Kingsville Rd, Vienna, Ohio.
Tickets will also be available at the door.
For more information, including sponsorship opportunities,
contact 330-545-2255.
TICKETS ARE NOW ON SALE AT ANIMAL WELFARE LEAGUE!
LIKE OUR FB AND INSTAGRAM PAGE @steelvalleywoofstock